Pop. 1280
By Jim Thompson,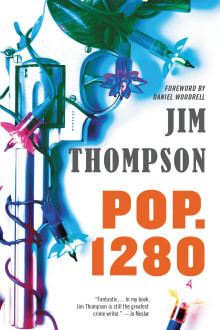 Recommended by Lynn A. Higgins
From Lynn's list on to read in with the eccentric movie adaptations.
I was introduced to this book through Tavernier's brilliant adaptation, Clean Slate (Coup de Torchon, 1981). Set in Texas, Thompson's novel was published in 1964, during the Civil Rights Movement, and it offers a portrait of petty-minded racism in the continuing aftermath of slavery. Tavernier's adaptation transposes the story to 1930s French colonial West Africa. I remain haunted by the ways the two settings illuminate each other. Tavernier's blending of a deadly serious historical crisis with touches of comedy—slapstick even—brings both eras and the novel itself to life in enjoyable and instructive ways.

---