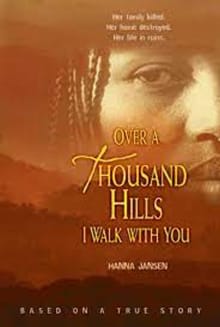 Over a Thousand Hills I Walk With You
By Hanna Jansen
Why this book?
This is a beautifully written account of how 8-year-old Jeanne d'Arc Umubyeyi (Dédé) escaped the 1994 massacre of the Tutsi ethnic group at the hands of the Huti tribe. Jeanne was the only member of her family to survive. The horror of what she went through is vividly recounted in Jeanne's words and those of her adoptive mother Hanna Jansen, who adopted her and brought her to Germany. 
It is a very powerful, true, story. I had heard of the Rwandan massacre, but knew little about it till I read this novel. 
I love the book and have re-read it…
From the list:
The best children's books about refugees and asylum seekers
When you buy a book we may earn a small commission.