Piglet
By Melissa Shapiro, MIM Eichler Rivas,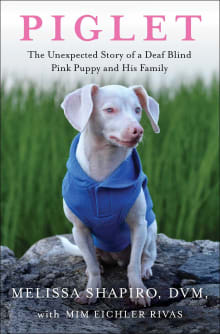 Recommended by Diane Kelly
From Diane's list on doggedly determined dogs undaunted by disability.
Knowing I have a deaf dog, a reader sent me this non-fiction book, thinking I'd enjoy it. She was right! The author is very open and honest about the challenges she faced taking on a dog who was not only deaf but also blind. It was incredibly heartwarming to see Piglet grow from a fearful pup into an icon who inspires schoolchildren - and adults! - to adopt a can-do attitude. I liked that the author raised issues of animal welfare in the book, including the unfair treatment of animals used for medical experiments as disposable equipment and the horrific treatment of animals in factory farming. The book addresses many aspects of the human relationship to other creatures, and what we owe to animals who are at our mercy. 
---