Hair Story
By Ayana D. Byrd, Lori L. Tharps,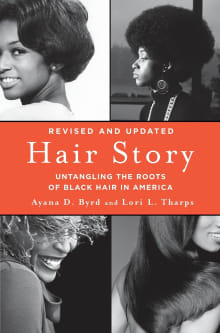 Recommended by St. Clair Detrick-Jules
From St.'s list on celebrating Black hair.
This is, to me, the "OG" of Black hair books in the last half-century. I discovered this book by accident a few years ago early one evening and ended up reading late into the night: page by page, Byrd and Tharps provide a first-rate history about natural Black hair. Learning about the hair customs of my ancestors before the onslaught of the Transatlantic Slave Trade made me proud of my curls and strengthened my resolve to continue their brilliant, necessary work on the roots of Black hair.

---