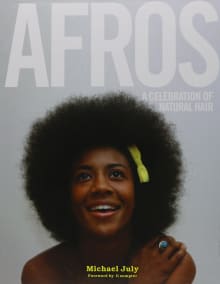 Recommended by St. Clair Detrick-Jules
From St.'s list on celebrating Black hair.
I love these photos! Afros: A Celebration of Natural Hair perfectly captures the power, strength, and diversity of the afro. July has done a phenomenal job using his camera to showcase the absolute beauty of natural hair. While photography in its beginnings was often used as an instrument of anti-Blackness, with scientists and others using pictures to "prove" that Black people were somehow less than human, July has done a phenomenal job upending this by using his camera to create an affirmation by and for Black folks, reminding us to let go of Eurocentric beauty standards and embrace our crowns.

---