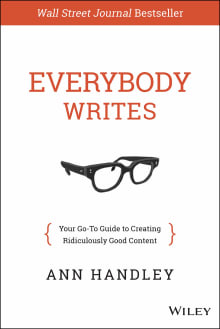 Everybody Writes: Your Go-To Guide to Creating Ridiculously Good Content
By Ann Handley,
Why this book?
With sharp communication skills, you can do anything. When returning from a conference, you'll want to share what you have learned in a thoughtful and professional manner, whether it's to your boss, team, and/or audience.
Ann Handley's Everybody Writes—which is getting an update in Fall 2022—is a go-to guide for all things writing. It includes sections on how to write better, crafting content, tools, and more. 
Besides, what better way to continue a conversation with a speaker than to see if they'll let you interview them for your blog... or podcast or livestream?
From the list: