Problems of the Future and Essays
By Samuel Laing,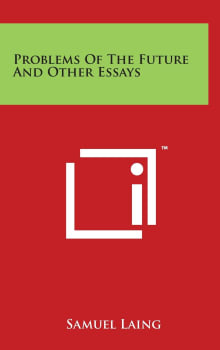 Recommended by Simon Clark
From Simon's list on the development of the human mind.
Published 1893, Laing considers all kinds of searching questions relating to astronomy, geology, spiritualism, poetry, taxation, finance, and much more. Clearly a possessor of a powerful intelligence, Laing endeavors to make sense of the universe and human life with the limited information he had at his disposal, compared to what we know today. How does the sun burn, he asks? Is it made from coal? A notion he dismisses with rational precision. Later, he considers the arms race from his nineteenth century viewpoint and uncannily predicts a "Great War" that will engulf most of Europe, with "Constantinople" being the likely catalyst of "the blood-rain deluges of the greatest war the world has ever seen".

---