The Power of a Positive No: How to Say No and Still Get to Yes
By William Ury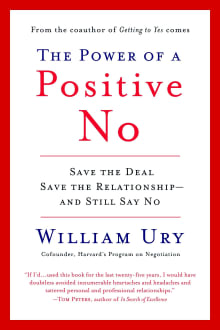 Why this book?
Bill Ury was one of the authors of the most important book in the negotiation field – Getting to Yes written more than 30 years ago. It challenged the win-lose model of negotiation that prevailed at the time. Bill and his partners Roger Fisher and Bruce Patton made it clear that we not only need to get agreement, when one is possible given the underlying interests of the parties, we also need to know how to defend our own interests in the face of inside and outside pressure. 
One of the reviewers of The Power of a Positive No said that the book "has the power to transform our lives by enabling us to say Yes to what counts – our own needs and values." I've watched him in action; Bill's three-step method works. First, you say what you really need. Then, you say no to proposals that don't meet your interests and explain why. Then, you make a counter-offer that the other side can say yes to (while still meeting your interests very well. This book squares the circle and it is really easy reading. 
---
When you buy a book we may earn a small commission.