Rubyfruit Jungle
By Rita Mae Brown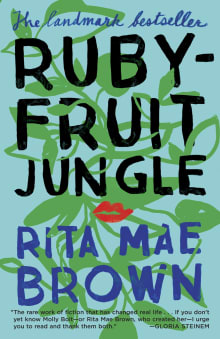 Why this book?
A tattered paperback version of Rubyfruit Jungle from 1973 sits on my desk. It will always be my favorite coming out story, and Molly Bolt will always be the first fictional character I had a crush on. I'd follow the unapologetic badass anywhere. Molly tore through romances, determined to find her people, her place, and her way in life. This book may be historical fiction now, but it wasn't when it was written. Rita Mae Brown records the hardship that even the coolest of cool endured. It was a time when the word homosexual was used, and queer rights weren't even on the radar. Rubyfruit Jungle crashed through a glass ceiling and cleared the runway for young lesbians like me.
Note: I recommend this novel for the mature YA reader.
---
When you buy a book we may earn a small commission.