Heather Has Two Mommies
By Lesléa Newman, Laura Cornell (illustrator),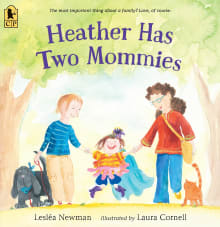 Why this book?
If you want to read an LGBTQ+-themed picture book for Pride, why not start with the first one? When Heather Has Two Mommies was released more than 30 years ago, it was groundbreaking and it continues to be heartwarming to this day. Heather is a girl whose favorite things come in twos—two pets, two gingersnaps, two moms. On the first day of school, Heather tells her classmates about her moms and the class discovers the uniqueness of each other's families.

---