1984
By George Orwell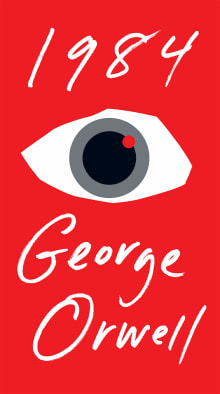 Why this book?
1984 is the granddaddy and patron saint of dystopian sci-fi novels, period. I read it in 1984, shortly after seeing the film version with John Hurt, which deeply affected me. Written in 1947, it shows us London in 1984—but in an alternate reality in which the world has divided into three totalitarian superstates, in the wake of World War 2 and a small nuclear war in the early 1950s. Winston Smith is a mid-level party functionary in Airstrip One (formerly known as England), which is part of Oceania, one of the three superstates. Every facet of his life is scrutinized by the governing party and its dreaded Thought Police. He begins an illicit affair with another party functionary, and the two lovers begin to flirt with the resistance—with disastrous results. They are captured and subjected to the hellish, medieval, atomizing process of the State's penal/interrogation system.
1984 is a relentlessly unhappy book—but for all the one of the most worthwhile books I could recommend. Orwell's insight into the psychology of totalitarianism is astonishing, not least because totalitarianism still more-or-less had its baby teeth in 1947. He saw with blood-chilling clarity and precision the nature, logic, and inevitable outcome of the whole game, and not once did he pull a punch in laying it out for the reader. And needless to say, 1984 is a timeless piece of beautiful literature, and an astonishing feat of sci-fi worldbuilding. This is a must-read for anyone interested in sci-fi, history, politics, literature, and the interface of all these things.
---
When you buy a book we may earn a small commission.