It Can't Happen Here
By Sinclair Lewis,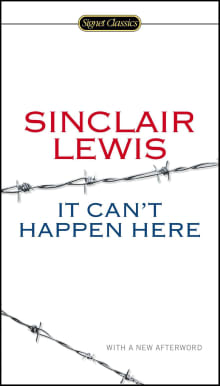 Book description
"The novel that foreshadowed Donald Trump's authoritarian appeal."—Salon

It Can't Happen Here is the only one of Sinclair Lewis's later novels to match the power of Main Street, Babbitt, and Arrowsmith. A cautionary tale about the fragility of democracy, it is an alarming, eerily timeless look at how fascism could…
Shepherd is reader supported. We may earn an affiliate commission when you buy through links on our website. (learn more)
Why read it?
3 authors picked It Can't Happen Here as one of their favorite books. Why do they recommend it?
Richard Dresser
Sinclair Lewis's 1935 novel was inspired by European fascism and serves as a bridge between Hitler/Mussolini and the blustery, bloviating, red-faced American version, Huey Long and Donald Trump. After winning the Presidency on a populist platform, Lewis's demagogue, Buzz Windrip, outlaws the opposition, puts his political enemies in concentration camps, sets up The Minute Men, a personal paramilitary force, eliminates the power of Congress, and restricts rights for women and minorities. A huge number of American voters back these fascist measures as necessary to make the country great again. Sound familiar?
Full disclosure: this book was an inspiration for my…
Dale Maharidge
Lewis wrote this at a time when followers of fascism were becoming more powerful in the United States – forces that I document in a history chapter "If 20's are 30's" in my book. Some critics would later dismiss this novel as fantastical, but it's full of verity about the country – there is a strong message in this story for us to learn from today. 
Prentis Rollins
Sinclair Lewis was master of the 'diagnostic novel'—America was always his sick patient, and in many of his novels he diagnosed what the problem was. In 1935, the problem was that America, like so much of the world, was in danger of falling under the spell of fascist demagoguery.  
It Can't Happen Here isn't a sci-fi novel—but it is certainly speculative fiction, with resemblances to both 1984 and Ayn Rand's Atlas Shrugged. It details the rise of populist demagogue Berzelius 'Buzz' Windrip, who is elected president after fomenting fear and promising a return to traditional values. With the…