The Hitchhiker's Guide to the Galaxy
By Douglas Adams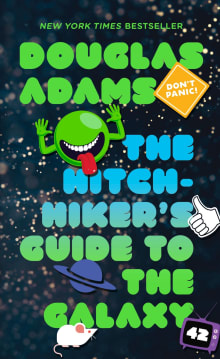 Why this book?
It should have been the worst Thursday that ever happened. Instead, Arthur Dent is launched away from the end of the world and into a trilogy of adventure which lasts for five novels! With the guidance of the Guide and the companionship of the unpronounceable Zaphod Breeblebrox, our hero is dragged through space and time to discover things he'd never imagined. Fortunately, Douglas Adams did. They tried to make a movie from the book, but it just won't translate. This series is a must-read if you wish to have enough money to pay for dinner at the restaurant at the end of the universe. Mistakenly filed under sci-fi in most bookstores, this is a true fantasy fully realized.
The Hitchhiker's Trilogy is actually the motivating factor in expanding my own series from one book to six. Adams went five novels long to tell his marvelous story. It was also a pretty cool joke. It's less my competitive nature and more in homage to a true genius work that my The Magic Triangle Trilogy wound up being six books long. Thank you, Douglas!
---
When you buy a book we may earn a small commission.