I Hear You: The Surprisingly Simple Skill Behind Extraordinary Relationships
By Michael S. Sorensen,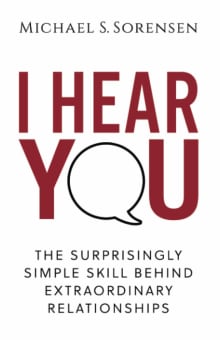 Why this book?
I listened to this book on Audible and then bought multiple print copies to share with others – it's THAT good! It's a short read that outlines how to properly validate people. I thought I was okay at this, but it turns out not so much. Practicing validation will help others feel heard, even when you disagree with them, and ends the need for people to argue their point endlessly or behave in other ways that take up your time. If you practice what Sorensen preaches, you will see amazing results in your work and home lives.

---