Garcia & Colette Go Exploring
By Hannah Barnaby, Andrew Joyner (illustrator),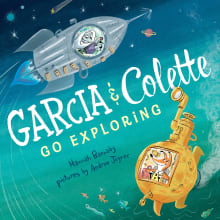 Recommended by Nidhi Kamra
From Nidhi's list on space exploration.
Garcia the bunny craves to shoot up to space while Colette the fox dreams of exploring the deep seas. Garcia builds a rocket and Colette, a submarine. Off they go on their separate adventures with their peanut butter sandwiches, of course! In this cleverly worded book, the author compares the two journeys – their similarities and differences, and how the two friends miss each other's company. Garcia and Colette finally find a way to enjoy their interests together. The illustrations complement the words perfectly. A great read for little humans.
---