Madness, Rack, and Honey
By Mary Ruefle,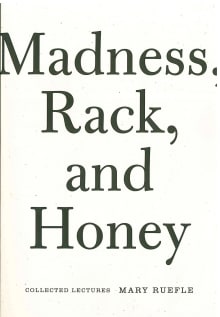 Recommended by Mike Errico
From Mike's list on non-songwriting books for songwriters.
A series of poetry lectures not intended for publication, they combine to form an astounding journey into language and art. You don't need to be a poet to love the casual way she delivers bomb after bomb, and to wish you'd been her student. I guess this is as close as I'll get, and it's taken a long time (I'm still not done) because I can just sit on a phrase or a page for an entire subway ride. Definitely would have failed her class, but having the lectures written out is like getting an extension without needing to grovel for it.
---