Pluto Gets the Call
By Adam Rex, Laurie Keller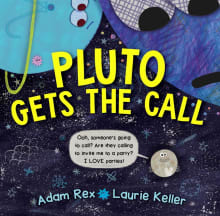 Why this book?
Poor Pluto! Earthlings are wretched, despicable creatures. How dare they ask Pluto if they can call him Plutoid!
In this hilarious, fact-filled book, Pluto gets the call from us dreadful, "Earth's meanest jerks" – humans, giving him the 'news.' All of us on Earth heard the news, but Pluto was informed of his downgrade a wee bit later. Follow newly-demoted Pluto and the rest of the planets on a fun journey of acceptance. The author has done a fabulous job of interleaving (mostly) facts and fiction. The story is told with speech bubbles, many of which will leave you chuckling. There are also some great puns. Don't miss this one!
---
When you buy a book we may earn a small commission.