The Expanding Universe
By Robert W. Smith,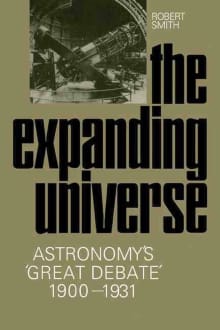 Recommended by Barbara J. Becker
From Barbara's list on the history of astrophysics.
Thanks to spectrum analysis, the development of improved photographic capabilities, and the construction of powerful new mountaintop telescopes, early 20th century astronomers were able to ask and seek answers to an entirely new range of intriguing questions about the nature and structure of the celestial realm. But the inability to resolve all nebulae into stars left them with a nagging mystery to untangle:  are these luminous clouds relatively nearby embryonic solar systems, or extremely distant aggregates of countless stars? 
In The Expanding Universe, author Robert Smith ably transforms archival material into a lively narrative of the dramatic twists and turns -- the disappointing failures, dead-ends, careless errors, contentious controversies, welcome surprises, and successes -- of the decades-long international effort to find answers to this perplexing quandary.

---