Making Stars Physical: The Astronomy of Sir John Herschel
By Stephen Case,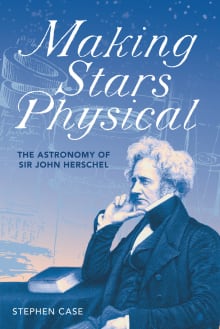 Why this book?
Denizens of the twenty-first century need to hop on board a time machine if they want to really see and comprehend the structure and workings of the world through nineteenth-century eyes. Making Stars Physical is just the ticket!  It pulls the modern reader back into an era when the science of astronomy was still mainly focused on tracking the movement of Earth's solar system companions against the array of carefully plotted background stars. It also reveals that, despite a public façade of stability and uniformity of purpose, astronomy's disciplinary boundaries were beginning to blur.
Author Stephen Case presents an engaging examination of the prehistory of astrophysics and the pivotal role played in it by polymath John Frederick William Herschel (1792-1871), whose views reflected the complexity, strengths, and limitations of the state of contemporary astronomical knowledge. Although, like many of his contemporaries, he doubted that the chemists' trusted spectroscope would be of much use to astronomers, he remained optimistic that methodical scientific investigation would ultimately resolve the mystery of the true nature of celestial bodies.  By encouraging amateurs and professionals alike to study stars' physical characteristics and apply known terrestrial laws of nature to the celestial realm, Herschel paved the way for the emergence of the new astronomy of astrophysics.

---