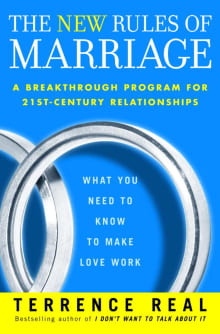 The New Rules of Marriage: What You Need to Know to Make Love Work
By Terrence Real
Why this book?
I picked up this book about 12 years ago. Being a psychotherapist I love, love learning. I love attending workshops (pre-covid) and learning new ways of thinking. New ways of looking at issues. New ways to look at how we get stuck in our relationships and life. Reading this book gave me tools that have transformed my therapy practice and how I work with couples. How I interact with my husband, my sons, and my close friends. It helped me by giving me insight into who I want to be in a relationship and it gave me self-worth as well.…
From the list:
The best books for creating inner and outer change in your life area
When you buy a book we may earn a small commission.