The Complete Book of Edible Landscaping
By Rosalind Creasy, Marcia Kier-Hawthorne (illustrator),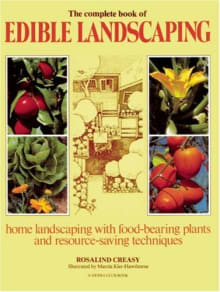 Recommended by Amy Goldman Fowler
From Amy's list on food gardening written by women.
Rosalind Creasy is one of my heroes. It was she who first turned me on to heirloom fruits and vegetables over 30 years ago, when I read her newly published Cooking from the Garden. That seminal tome celebrates the food garden's bounty and uses in cookery. 
Creasy is best known as a pioneer in the field of edible landscaping aka foodscaping: the practice of integrating edible plants into the landscape for beauty and sustenance. Think yummy delicious arbors, allées, groundcovers, borders, hedges, espaliers, foundation plantings, and potted plants. She spells out all the how-to's, wheres, and whyfors in her first book, The Complete Book of Edible Landscaping; and updates it all in the second edition, Edible Landscaping. If you're looking for practical advice, detailed instructions, design schemes, and recommended plants to feed body and soul, then allow me to point you in Ros's direction.

---