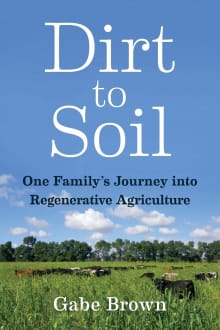 Dirt to Soil: One Family's Journey Into Regenerative Agriculture
By Gabe Brown
Why this book?
Gabe Brown didn't set out to change the world when he first started working alongside his father-in-law on the family farm in North Dakota. But a series of weather-related crop disasters put Brown in desperate financial straits. He decided to quit the industrial model of food production and began experimenting with regenerative agriculture instead. He stopped using herbicides, insecticides, and synthetic fertilizers. He no-tilled diverse crops into his fields and changed his grazing practices. By doing so, Brown transformed a degraded farm ecosystem into one full of life. Brown has grown several inches of new topsoil in only twenty years…
From the list:
The best books to learn about regenerative agriculture
When you buy a book we may earn a small commission.