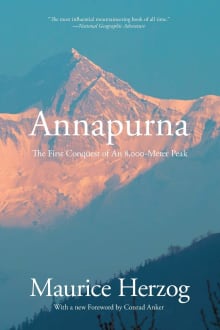 Annapurna: The First Conquest of an 8,000-Meter Peak
By Maurice Herzog
Why this book?
Without Annapurna, I would have never climbed a mountain. It not only inspired my childhood but all the mountaineers who followed in author Maurice Herzog's footsteps. Herzog was also a captain of the 27th BCA during World War II, the mountain battalion where I served as a Special Forces Mountain Commando in the 1980s—but that's not why I picked this book. I can't think of a better way to describe it than to quote my own memoir, I, Tarzan: Against All Odds:
"It was a time before the modern mountaineering climbs masterfully described by Jon Krakauer and…
From the list:
The best books about exploration, endurance, and world expeditions
When you buy a book we may earn a small commission.