Denali's Howl
By Andy Hall,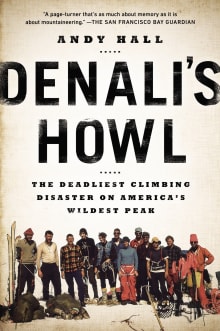 Book description
In the summer of 1967, twelve young men ascended Alaska's Mount McKinley-known to the locals as Denali. Engulfed by a once-in-alifetime blizzard, only five made it back down.

Andy Hall, a journalist and son of the park superintendent at the time, was living in the park when the tragedy occurred…
Why read it?
3 authors picked Denali's Howl as one of their favorite books. Why do they recommend it?
Michael Engelhard
No list like this would be complete without a great mountaineering book.
The story of North America's deadliest climbing disaster, in 1967, serves as a reminder how quickly even well-planned adventure can turn into tragedy. Hall, the national park's superintendent at the time of the events he describes, puts you squarely into the boots and onto the crampons of these mountaineers.
Having climbed Denali myself once, with a buddy, under atrocious conditions, this book again brought home the fact that small decisions can have unforseen, lethal consequences, especially on a mountain that brews its own weather. I have seen snow…
Dave Atcheson
Unlike my first pick, this book leans much more toward outright adventure. But because of the way the story unfolds, slowly at first and then building into an exciting crescendo, recounting the details of this terrible tragedy on North America's tallest peak, it is a must-read for anyone who enjoys an exciting outdoor adventure. It is carefully researched, creating a thoroughly engrossing account of one of mountaineering's most controversial and heart-rendering tales. Hall's narrative adeptly describes the leadup to what happened, and the fateful outcome, in all its excruciating detail.
G. Elizabeth Kretchmer
I didn't discover Denali's Howl until after I'd written and published my book, and when I did, I was blown away. Hall is an impressive yet sensitive storyteller in his narration of the background leading up to, and the details of, this tragic mountain climbing incident. But what really grabbed me was the way this true story validated my fictional characters in terms of their behaviors, personalities, and decisions in the face of death and disaster. This book is a first-class introduction to the world of mountain climbing on Denali, and although climbing technology and practices have evolved since 1967,…