Common-Sense Compost Making
By M.E. Bruce,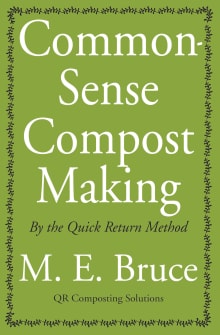 Recommended by Charles Dowding
From Charles' list on to help you grow your garden on your own.
I love how Maye thought deeply about nature and this had originally led her to the pioneers of biodynamic gardening in 1920s Austria. Then she became disillusioned with what she felt was too strict of adherence to every word of Rudolf Steiner's writing. Like me, she wanted to try new approaches. After moving back to the UK in the 1930s, she developed her own methods of organic gardening which centred on making top quality compost, using herbal stimulants which she worked out herself.
She was a true scientist and helped me to understand not to trust "accepted views" which can become authoritarian. Plus I learnt about making great compost, in particular the roof she used to keep rain off her heaps.
---