I Got a Monster
By Baynard Woods, Brandon Soderberg,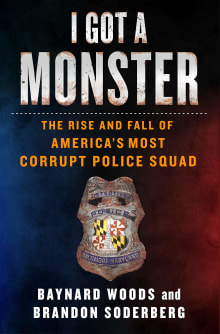 Recommended by Mary Rizzo
From Mary's list on why Baltimore's problems are so hard to fix.
In The Wire and Homicide: Life on the Streets, David Simon, also an author of nonfiction books about Baltimore, depicted Baltimore cops as Sisyphean figures trying to fight an endless wave of crime and failing. Baynard Woods and Brandon Soderberg tell a much less positive story about the police. They examine an elite unit called the Gun Trace Task Force which became, under its leader Wayne Jenkins, a criminal syndicate. Using their badges as weapons, these police officers robbed drug dealers of tens of thousands of dollars, planted weapons and evidence, and terrorized Black Baltimore residents.
As media pundits were wringing their hands about whether Baltimore's people had gone out of control when they rioted after Freddie Gray's death, we learn that these cops were literally robbing prescription drugs to sell them on the street. Even if you're suspicious about the role of police in inner-city communities, this book…
---