Do Androids Dream of Electric Sheep?
By Philip K. Dick,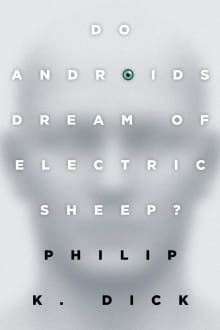 Why this book?
Most will recognize this book from the title of the film adaptation: BladeRunner. Still, there's something to be said for the originality of Dick's title; specifically, it telegraphs to the reader that they should expect questions to ponder and their thoughts provoked. 

In my view, writers are teachers, and I love that Do Androids Dream of Electric Sheep? is never pedantic, but, rather, it's didactic instead. It poses questions that will make the readers question the notion of a robot or android as sentient or not, without insisting that the book knows the definitive answer. Dick is wise enough to know that he doesn't know the answers to the extraordinarily profound questions his wonderful novel poses regarding humanity and our future A.I. creations; a humility I'll always admire.   
---