The Singularity Is Near
By Ray Kurzweil,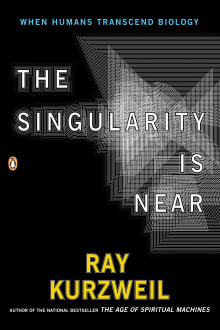 Book description
"Startling in scope and bravado." -Janet Maslin, The New York Times

"Artfully envisions a breathtakingly better world." -Los Angeles Times

"Elaborate, smart and persuasive." -The Boston Globe

"A pleasure to read." -The Wall Street Journal

One of CBS News's Best Fall Books of 2005 * Among St Louis Post-Dispatch's Best…
Why read it?
3 authors picked The Singularity Is Near as one of their favorite books. Why do they recommend it?
Calum Chace
Kurzweil is fantastically optimistic.
He thinks that in 2029 we will have AGI. And he's thought that for a long time, he's been saying it for years. He then thinks we'll have an intelligence explosion and achieve uploading by 2045.
Kurzweil is important because he, more than anybody else, has made people think about these things. 
David Simpson
If Ray hadn't written The Singularity is Near, I would never have written my own books. 
It was after reading a news article on the release of the book all the way back in early 2005, that, at the tender age of 27 and for the first time in my life, I knew I had a subject that people would love to read about—and I also had a plot! 
Reading Ray's description of being able to download "upgrades" to our bodies like we upgrade our computers, of immortality, and of molecular assemblers that could replicate anything we…
Rayya Deeb
I saved the most influential book on me writing my own book for last. Ray Kurzweil's theory of "the singularity" between human beings and machine intelligence sucked me into the rabbit hole and I never looked back. For one, it is completely fascinating to imagine humanity merging with rapidly advancing technology, and intelligence expanding at an exponential rate. More importantly, I wanted to better understand the world of the future that my two little girls will be a part of one day. The more I learned as I delved into futurism, technology, and what it all means for humanity, the…