Eyes of Prey
By John Sandford,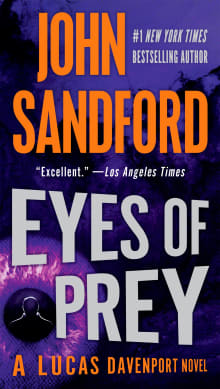 Why this book?
Let's talk about memorable beginnings and I am talking about the kind that will keep you awake at night. Sanford is gritty and he really pushes the edge with his villains. On that note, he really pushes the edge with his protagonists as well, because Lucas Davenport is one of my favorite cops. Take one very smart (but seriously disturbed villain) and one very smart (but intense cop) and pit them against each other.
As Lucas weaves through the unfathomable workings of the brain of someone who is truly unhinged, he encounters an unholy marriage of two killers who operate on a separate plane yet have a common goal and the result is chilling to say the least.
The Prey novels are never for the faint of heart, but always fast-paced and well-written, suspense being the end game each time.
---