A Free Man of Color
By Barbara Hambly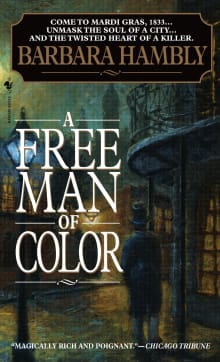 Why this book?
A Free Man of Color is the first book in the Benjamin January series by Barbara Hambly. I was already a fan of Hambly's fabulous fantasy books, so following her as she ventured off into more historically slanted books was an easy leap for me. 
The world of Benjamin January is set during a fascinating and chaotic time in the United States. New Orleans in the 1800s was a clash of cultures and creeds. The French and the Creole philosophies they'd imprinted on the city collide with the new ways of the growing American populace. Throw in the convoluted social structure for slaves and free people of color, and you've got a city in constant turmoil. Add in murder, and the stakes rise even higher.
---
When you buy a book we may earn a small commission.