The Lies of Locke Lamora
By Scott Lynch,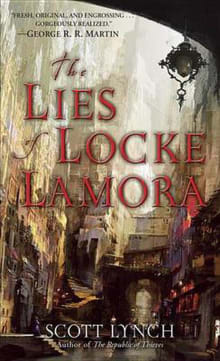 Why this book?
I first read The Lies of Locke Lamora in high school and I fell in love with the story immediately. The story follows a group of young thieves scamming their way through a Venice-inspired fantasy city. The characters follow the first half of Robinhood's rules: They steal from the rich… but they keep their haul instead of giving it away to the poor. They're not squeaky clean, but they are lovable. Their motivations aren't necessarily pure, but they are believable. The story takes a dark turn when a larger threat looms, threatening to end life as the gang knows it. Our crew then has to run an elaborate heist to trick a dangerous and brilliant villain. 
The Lies of Locke Lamora gets top billing on my list for two main reasons. Firstly, the sequel, Red Seas Over Red Skies, is the book that dragged me out of my post-university reading slump, paving the way for me to love books all over again. Secondly, The Lies of Locke Lamora was a direct inspiration for my own heist book. Tl;dr: Without this book, I might never have actually started writing novels myself.

---