Triplanetary
By E.E. Smith,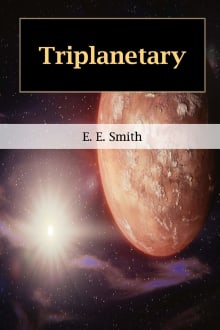 Why this book?
I read these as a young teenager and loved them, they're star-spanning, rip-roaring tales of civilisations pitted against each other across the universe.
 Triplanetary
is the first book of the Lensman series but we have to wait until book two;
First Lensman
, for the arrival of the titular characters.
The good guys (Hooray! Including Earth, of course) have an advantage in that certain of them have been selected by the Arisians to wear a device called the Lens - which allows them to harness their mental powers against the Boskonians (the bad guys - boo!), who are assisted by the evil Eddorians.
It's all good fun, and I admit to the stories having influenced me slightly.
---