The Ultimate Hitchhiker's Guide to the Galaxy: Five Novels in One Outrageous Volume
By Douglas Adams,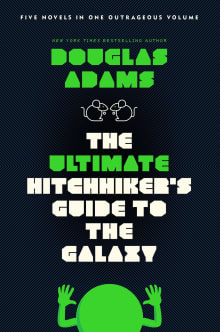 Why this book?
I'm going to be a time traveler per se on my book selection. I'm a big fan of reading a book and then seeing that book as a movie. This was my first book-movie book experience. I read and watched, entertaining to the highest. Now Douglas Adam is from the United Kingdom, and he shares this culture in the style of writing. The reason why I like this book, The storyline was adapted from a radio show first. 
Before it became a novel, there are about 100 terms and meanings flying across the book, and it comes together as down to (Earth) no pun intended. There are a total of three platforms: radio, novel, and movie. As a reader who cannot synthesize with Author Tent being saved from Ford Perfect (Alien researcher of space guidebooks), it was the first Star Wars prototype of its time. 
---