American Prometheus: The Triumph and Tragedy of J. Robert Oppenheimer
By Kai Bird, Martin J. Sherwin,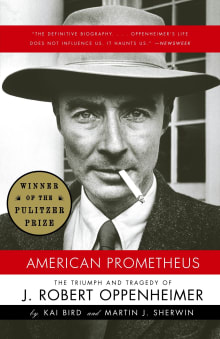 Why this book?
"Father of the atomic bomb" is not the legacy anyone might wish for oneself. Yet that was the plight of Oppenheimer, a leading theoretical physicist in the 1940s. The authors spotlight the harnessing of the "awesome power of the sun" and how heroic he was for his country in a time of war. But then there's post-Hiroshima Oppenheimer, confronting the consequences of what he had done. He proposed international cooperation over the controls of atomic materials. He thus paved a path for keeping the world safe. In doing so, he made powerful enemies, like the FBI's J. Edgar Hoover, who believed Oppenheimer should not be trusted with government secrets. What emerges is this lesson: you cannot suppress a powerful invention. Rather, the takeaway parallels the Promethean myth: potentially dangerous new technologies are like the fire stolen from the Gods. We must take great precautions as to how they are used, or we should not use them at all. 
---