Bright Green Lies: How the Environmental Movement Lost Its Way and What We Can Do about It
By Derrick Jensen, Lierre Keith, Max Wilbert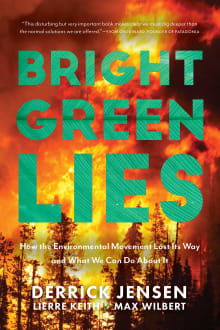 Why this book?
Environmentalism was once centered on conserving the living world. Today it's centered on maintaining human expansion and technologies that are destroying the living world. Bright Green Lies is the central book for understanding this shift and lays the groundwork for the next generation of environmental thinking. The three highly capable authors name the names, disclose the locations, and brilliantly interrogate the lies we've told ourselves. 
There is also a powerful film, Bright Green Lies, based on the book, directed by award-winning filmmaker Julia Barnes.

---
When you buy a book we may earn a small commission.