The Forever War
By Joe Haldeman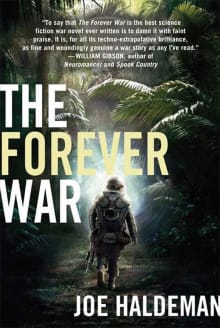 Why this book?
The Forever War was written as sort of a reply to Heinlein's pro-Vietnam war screed, Starship Troopers. It's the story of pacifist interstellar infantryman William Mandella. What's not clear upfront is that traveling millions of light-years takes hundreds of real years. Each time he returns, society has drastically changed beyond his capacity to fit in.
I love the big picture social commentary about endless war, disposable veterans, and how society changes the rules for its fighting men and women. It's also got aliens and explosions! There's lots of cool action, thrilling battles, and interesting sci-fi concepts. It's got your mech-suits, psychic aliens, and exotic physics. 
Ultimately, the heart of the film would be the star-crossed romance between Mandella and his lady friend Marygay. They struggle against circumstance and cosmic distances to build a love that defies Einstein's theory of relativity.
---
When you buy a book we may earn a small commission.