The Doom Stone
By Paul Zindel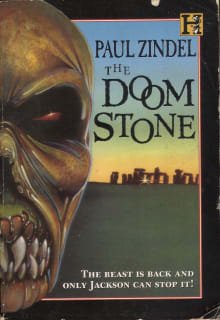 Why this book?
While short book aimed at younger readers, there's so much to learn for anyone regardless of age that wishes to exercise their terror-inducing writing muscles. I read this book so long ago that I would guess it was back in 2005. While the time frame is hazy, the details and lessons in the book are anything but. The way Zindel handles the horror parts is what gets this book on this list. The antagonist monster is horrendous of course, but it's the mystery behind it that is what's more chilling because it is vaguely hinted at but never outright explained.
Even on the final page, when you learn that this creature isn't anything new nor anything going away, there are still so many mysteries that will not (and maybe should not) be solved. That is why this book is recommended. When things are over-explained, they tend to lose their magic. A key component to writing in general, and especially if your goal is to unnerve your reader into thinking about your book long after they close the book.
---
When you buy a book we may earn a small commission.