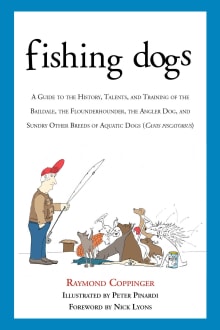 Fishing Dogs: A Guide to the History, Talents, and Training of the Baildale, the Flounderhounder, the Angler Dog, and Sundry Other Breeds of Aquatic Dogs
By Raymond Coppinger, Peter Pinardi
Why this book?
My good friend Ray Coppinger, who died in 2017 at age 80, was known as the world's leading scientific expert on the behavior of dogs. As well as writing some of the most important scholarly works on dog behavior, he also penned this slim volume - the hands-down funniest book about the dog-human relationship. Ray could act impatient when people got mushy about their dogs, but in this small gem he reveals that he understood the emotional bond between people and dogs at a very deep level. 
From the list:
The best books on how dogs love people
When you buy a book we may earn a small commission.