How to Catch the Tooth Fairy
By Adam Wallace, Andy Elkerton (illustrator),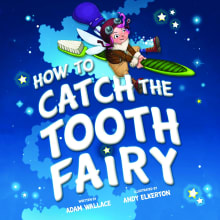 Recommended by Bobbie Hinman
From Bobbie's list on children's books about fairies.
Just about every child believes in the Tooth Fairy, and many picture books have been written about this elusive character. This is my favorite. The rollicking, silly rhyme, and unusual escape methods devised by the fairy to keep the kids from catching her will captivate any child who is facing the loss of a tooth. The fairy is on the run, dealing with icky situations such as drool and tangled dental floss. Is she really too fast to be caught?
---