Twinkle
By Katharine Holabird, Sarah Warburton (illustrator),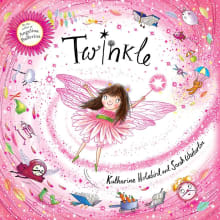 Why this book?
Young readers love books with bright colors and fanciful characters. They enjoy stories that are easy to understand, yet have an interesting plot. Katherine Holabird's series, Twinkle, has it all. Twinkle is a feisty little fairy, impeccably illustrated, and lovable at first sight. In each book in the series, Twinkle solves a different troublesome issue, such as making it through her first day at fairy school, trying to remember her spells, and dealing with her new pet dragon. The vibrant illustrations add even more enjoyment to the stories. 
In addition to the Twinkle picture books, slightly older fairy-loving children will be delighted with the leveled readers that feature further adventures of the mischievous little fairy named Twinkle.
---