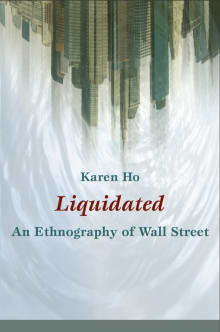 Recommended by Donald Angus MacKenzie
From Donald's list on the best books on financial trading and the global financial system.
From the 1980s onwards, one of the best ways to get rich has been to land a job as an investment banker or other highly paid financial professional. You might have thought that this required an economics degree and advanced mathematics, but one of my students discovered that what a leading investment-management firm most liked about her was that she was a near-professional-level cellist! That's an example of what the famous sociologist Pierre Bourdieu calls 'cultural capital': skills, tastes, and so on that are highly regarded (even if not directly relevant to the job at hand).
Karen Ho landed a job at an investment bank but seized on it as an opportunity to gain insights into what it took to become successful at the pinnacle of the global financial system. She has also researched in-depth the processes by which students at elite Ivy League universities such as Princeton and Harvard…
---