Maro Up
By Janet Bray Attwood, Ken Honda,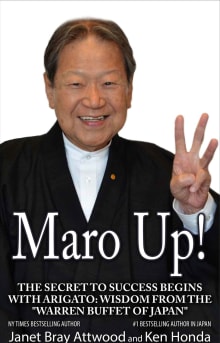 Recommended by Ngan H. Nguyen
From Ngan's list on that get you thinking.
Known as the Warren Buffer of Japan, Wahei Takeda was a billionaire and investor living in Japan that passed away in 2016. He had a philosophy of life that built upon the concept of gratitude. A mentor of mine met and studied with this man, and he shared that every day, every day, he has a practice of giving 1,000 gratitude. Not figuratively, but honestly, living in a state of gratitude. I have tried this and go back to the practice of giving 1,000 when I need to shake myself out of a rut. It's transformational, and it's hard. It usually takes me three days before I can get to 1,000 and the last 600 pushes me to see beyond the surface. Give it a try!

---