The Elements of Investing: Easy Lessons for Every Investor
By Burton G. Malkiel, Charles D. Ellis,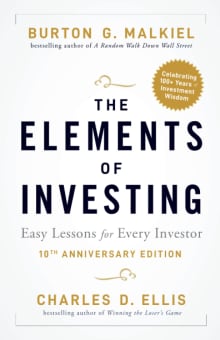 Why this book?
This is a slim, to-the-point, easily understood book based on the same principles as the well-known book on writing, The Elements of Style. With its five chapters, it is the opposite of the highly complex, bewildering, we-know-more-than-you communication put out on a daily basis by the investment industry. Its wisdom is timeless. It's all that a first-time investor needs to know.
---