South Southeast
By Steve McCurry,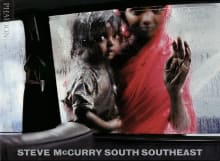 Recommended by Tom Carter
From Tom's list on travel photography.
Legendary travel photog Steve McCurry has developed a bad reputation over the decades for reportedly mistreating his subjects (notably "Afghan Girl" Sharbat Gula), for allegedly staging and digitally manipulating images (as opposed to the candid shots he claims they are), and for profiting handsomely from it all. But gosh dang if his photographs aren't gorgeous! In light of his purported misdeeds, I do not intend on dropping any more money on his newest retrospective books, but 2000's South Southeast – based on his early work in Asia – will always remain on my bookshelf.
---