Blood and Oil
By Bradley Hope, Justin Scheck,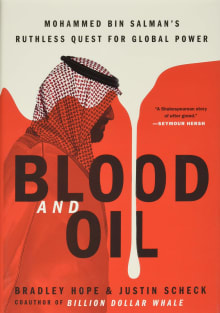 Recommended by Simon Henderson
From Simon's list on understanding modern Saudi Arabia.
Another post-Khashoggi product, by two
Wall Street Journal
reporters, this volume is longer than Hubbard's but doesn't get as close to what may make MbS tick. Their reporting's strength though is chronicling the initial steps of MbS's Vision 2030 plan to transform the kingdom, and the background to his pet project – the $500 billion futuristic city of NEOM in the northwest of the kingdom.
They write: "Mohammed decided to build not just a city but a mini-kingdom. It would have cutting-edge technology and medical care, all powered by solar energy rather than oil." The vision statement for the project reads: "The land of the future, where the greatest minds and best talents are empowered to embody pioneering ideas and exceed boundaries in a world inspired by imagination."
---