The Eleventh Day
By Anthony Summers, Robbyn Swan,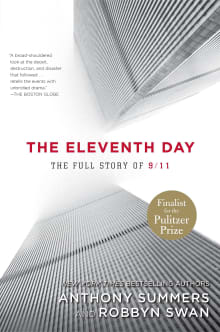 Book description
FINALIST FOR THE PULITZER PRIZE
 
For most living Americans, September 11, 2001, is the darkest date in the nation's history. But what exactly happened on 9/11? Could it have been prevented? And what remains unresolved? Here is the first panoramic, authoritative account of that tragic day—from the first brutal actions…
Why read it?
1 author picked The Eleventh Day as one of their favorite books. Why do they recommend it?
Simon Henderson
With this year's 20th anniversary of the 9/11 attacks on New York and Washington, this book, published on the 10th anniversary, is a useful reminder of the events of that day and the subsequent investigations of why it happened.
The civil case against Saudi Arabia for alleged complicity with the 19 hijackers, 15 of whom were Saudi, continues, albeit with little publicity. That is likely to change. Osama bin Laden's own legal reckoning was less formal of course – the Saudi whose name has become synonymous with terrorism died in a hail of bullets from U.S. Navy SEALs. (I can…