The Beautiful Mystery
By Louise Penny,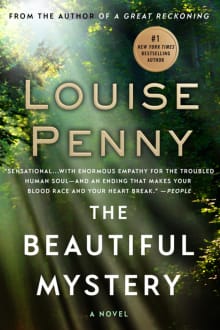 Recommended by Shelley Costa
From Shelley's list on where great art leads to even greater crimes.
In this installment of her beloved Three Pines series, Penny locates the crime in a remote abbey in Quebec, where a couple of dozen monks – renowned for their singing – are cloistered. When the choir director is murdered, enter the series hero Inspector Gamache, who unfolds a story of timeless yet sinister beauty about the origins of Gregorian chant. This is the second book on my Best Five list that is set in a monastery, which speaks to how I can't resist well-written mysteries set in closed communities – there's just something so frightening and compelling about that small ring of victims and suspects, not to mention palpable atmosphere and themes that matter. I'm really interested in the psychology of a killer who places an obsessive love of an art object above the sanctity of life. 
---