Becoming Native in a Foreign Land
By Gillian Poulter,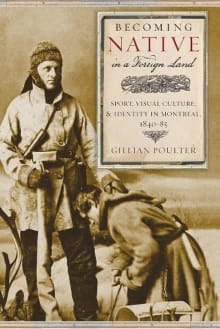 Book description
How did British colonists in Victorian Montreal come to think of themselves as "native Canadian"? This richly illustrated work reveals that colonists adopted, then appropriated, Aboriginal and French Canadian activities such as hunting, lacrosse, snowshoeing, and tobogganing. In the process, they constructed visual icons that were recognized at home and…
Why read it?
1 author picked Becoming Native in a Foreign Land as one of their favorite books. Why do they recommend it?
Jason Wilson and Richard M. Reid
Canadians have long worried about their national identity. Indeed, some have considered whether or not there even is one.
Poulter, in her innovative and stimulating book, examines an early attempt in the mid-nineteenth century to create an imagined Canadian identity. Wishing to distance themselves from a quintessential "British" identity, second-generation Montreal Anglophones were searching for a new way to identify. They saw themselves as "native Canadians".
To solidify this identity, they pursued, as Poulter explained, "national attributes, or visual icons, that came to be recognized at home and abroad as distinctly "Canadian.'" It meant, in practice, taking up propriate costumes…