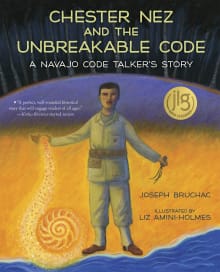 Chester Nez and the Unbreakable Code: A Navajo Code Talker's Story
By Joseph Bruchac, Liz Amini-Holmes
Why this book?
If I had to recommend just one picture book about languages, I'd choose this one, because it does so much. First, of course, it shares a long-secret episode in American history—the triumph of the Navajo "code talkers" in World War II. (Not the first time bilingual heroes came to our country's rescue: see my own picture book Gingerbread for Liberty! How a German Baker Helped Win the American Revolution.)  But this book also addresses language justice in a way that kids will find easy to understand. Through Chester, we feel the pain and confusion of being told one's…
From the list:
The best picture books about languages
When you buy a book we may earn a small commission.