Code Talker
By Chester Nez, Judith Schiess Avila,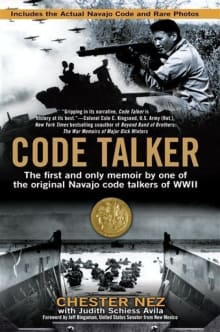 Recommended by Carol Fiore
From Carol's list on on loss that do more than make us cry.
Can there be anything more poignant than a story about a hero who doesn't think he's a hero? About a man who endured a boarding school full of abuse, lived through the horrors and injuries of WWII, returned to hate and racism, lost family, and yet confronted it all with resilience and forgiveness?
This memoir is from Chester Nez—one of the original Navajo code talkers. It contains wonderful photos and the actual Navajo code. This is an important piece of history as well as a genuinely insightful read and peek into Navajo culture.
The last line of the book, written when Mr. Nez was 86, reads "It's been a good life—so far." As an outsider I couldn't disagree more. His life was tragic and profoundly difficult, but he endured with grace and strength. This simple last line says much about the heroes we should all admire. It has been a…
---