The Arabic Quilt: An Immigrant Story
By Aya Khalil, Anait Semirdzhyan (illustrator),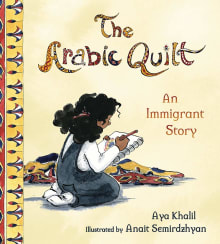 Why this book?
There are lots of excellent contemporary picture books about children from other countries adjusting to life in the United States. What sets this book apart for me is that, rather than just sprinkling in some words in the family's native tongue, it specifically talks about languages and bilingualism. The writing is a little on-the-nose in spots (children say things like "I didn't realize how important a different language is" and "Aren't languages a beautiful thing? They can truly unite us!"), but it's a likable story with charming illustrations. My favorite part is at the end, when the Arabic quilt inspires another class to make one in Japanese.
---